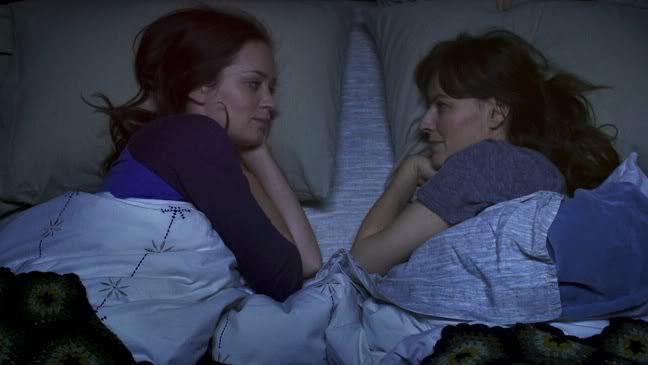 Can you guess where Mark Duplass is?
Last night was the opening gala of the Glasgow Film Festival and I managed to get a ticket for the sell-out opening film... only in the wee auditorium, an hour after the real UK premiere & sans the Q&A with director Lynn Sheldon. The film to kick off this year was
Your Sister's Sister
, a mumble-core drama/comedy starring Mark Duplass, Emily Blunt & Rosemarie Dewitt. If I'm being completely honest the ROMCOM! plot synopsis didn't thrill me (and neither did the BROMANCE! plot synopsis for
Humpday
, Lynn Sheldon's previous effort about two straight males who dare each other to have sex with each other) & the only reason I bothered is because a) Free Booze afterwards b) A 20 films for £90 deal. Well, what a tool I am. It was such a massive crowd pleaser & for me, a very pleasant surprise.
Just to clear up the plot - it's about a guy called Jack who is sent on a sabbatical to a family cottage on a remote island by his late brother's ex-girlfriend, Iris, but finds her sister Hannah already moved in and half-way through a bottle of tequila. Yes, there is a love triangle but it's not quite as conventional as you may assume - it's very well acted and scripted with lively direction and genuinely likable characters. This movie proved to me that the rom-com/dramady fare of today aren't all the same soul-less drivel, I smiled pretty much all the way through the movie (and well afterwards, but the lovely atmosphere/free drink might have had something to do with that - well done to the GFF crew) and now I'll definitely be looking out for Humpday despite it's bromance UP TO ELEVEN plot that nearly made me roll my eyes out of my own head upon first glance.
I'm trying to not make promises I can't keep, but keep an eye out for my blog updates in the next week as I'm going to see some really exciting movies that won't have their official release for a while - including Werner Herzog's latest documentary '
Into the Abyss
', '
Livid
' from the team that made the terrifying 'Inside' (which was possibly the best horror of the noughties), the re-release of the Glasgow-set 80's sci-fi movie '
Death Watch
' & a Surprise Movie this Wednesday that always delivers something exciting (last year it was 13 Assassins).
And now as a way of apology for being out of your life for nearly 2 months here's my half-arsed notes on the new releases of 2012 I've watched so far.
Jan 6th: The Artist:
Those movies where the two characters who could actually sort their shit out if they just talked to one another usually annoy me, but it works here 'cos this is about communication! The movie world being turned upside down, proud stars falling, a time of change, etc - there's even scenes where one is too silent and one talks too much, it's way too clever... but lovable. Best Picture winner-worthy? Aye. I liked Hugo more & think Singin' in the Rain is more re-watchable, but.